PAPER CUPS
In a park, at home, in the office, at fairs, conferences and trainings - paper cups can be found wherever: coffee, tea or cold drinks are served. If a paper cup becomes an advertising cup with a logo or graphics, then the image of the company will become transfixed in all the places the cup appears. A practical advertising gadget makes a perfect advertisement, and a paper cup undoubtedly fulfils this function. It's always handy, and in some cases even indispensable, like for coffee vending machines. We make advertising overprints only on high quality paper cups: single, double and triple insulated, used mostly for hot drinks (protecting your hands from getting burnt), but not only.
What paper cups do we offer?
You can order cups with a ready overprint, or custom overprint - that is what we specialise in. If you need advertising cups with artwork that will stick in your customer's mind for a long time - we are willing to design it. What matters is that a consumer remembers your brand, which appropriate graphics printed on a paper cup may achieve. You specify the quantity of paper cups and the kind of print, and we'll take care of the rest.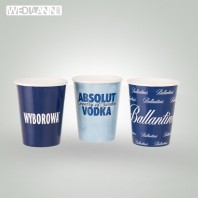 Expand